What is covered in your Warranty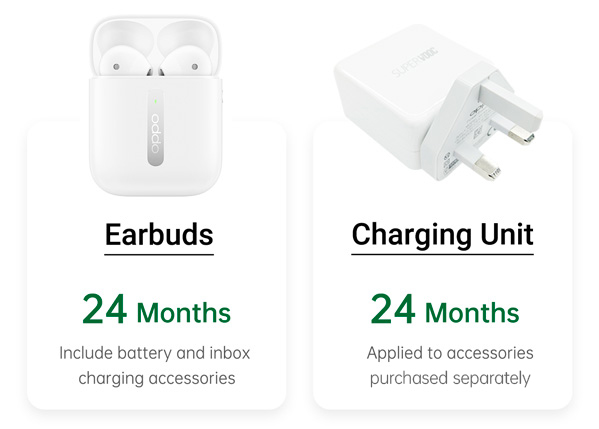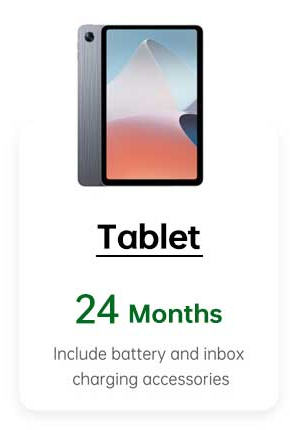 WARRANTY POLICY
1. OPPO warrants that the Products are free from defects in materials and workmanship under normal use and use in accordance with the relevant User's Guide for the Product during the warranty period (defined below).
2. Consumer law in some countries does not allow limitations on the warranty period or on the type of parts covered by a warranty. Therefore, the above limitations in point 2, which do not correspond to such laws, may not apply to you.
3. In the event of a defect in the materials and workmanship during the Warranty Period, OPPO or its Authorized Service Centres will repair or replace the Product or relevant parts at its own discretion.
4. The repair or replacement of a defective product during the warranty period will not be charged to the consumer (for parts, labour or otherwise). All defective products, parts, signs or equipment shall become the property of OPPO.
5. The warranty in respect of a repaired product or the replaced part will continue enjoy the remaining warranty period, or for three months from the date of repair, whichever is longer .
6. A valid proof of purchase with the date and place of purchase needs to be kept and required to present when claiming warranty. Under the circumstance of unable to provide proof of purchase, OPPO reserves the right to refuse the above service with respect to the warranty claim.
7. Some accessories (for example: manual, warranty card, etc.) are not covered by this warranty.
8. This Warranty is not available:
a. if the serial number or warranty seal on the product is unreadable, damaged or removed;
b. if the proof of purchase is not present.
9.This Warranty does not cover for defects and damages resulting from:
a. Normal wear and tear of the equipment or normal aging of equipment;
b. The phone is damaged due to improper use, abuse, negligence or accident, (such as falling, squeezing, water damage, etc.);
c. Any disassembly, repair, modification performed by anyone other than OPPO or an OPPO Authorized Service Centre;
d. Spills of food or liquids, corrosion, rust or the use of an incorrect voltage;
e. Scratches or damage to plastic surfaces and any other externally exposed parts as a result of normal use;
f. Use outside of the permitted use according to the user manual of the Product.
(OPPO is not liable for any damage to the device, any injury, or any other product safety issue caused by repair if the OPPO guidance is not followed. Any damage to the device arising from an attempted repair or repair by anyone other than OPPO Authorised Service Center will not be covered by limited warranty of OPPO.)
10. The Warranty applies to the originally delivered Product. The Warranty does not apply to software or other equipment owned by OPPO or third parties. However, you must check the end user license agreement, individual warranty statement (s) and / or any exceptions that are intended for such items.
Note: this Warranty Policy applies only for the products sold in this country. OPPO reserves the interpretation for the Warranty Policy.
YOUR RESPONSIBILITIES
Before you deliver your product to OPPO or an Authorized Service Centre for maintenance/repair under this Warranty, you must backup and then delete all the personal information and data (such as phone numbers, texts, pictures, etc.) that you have stored.
LIMITATION OF THE LIABILITY OF OPPO
1. With the exception of warranties set out above, OPPO makes no other warranties, express or implied, by law or otherwise. Consumer law in some countries does not allow restrictions on the basis of a product warranty and therefore certain limitations in this warranty document may not apply to you.
2. If you do not back up your data before the delivery of your product to OPPO or an Authorized Service Centre for service under this Warranty, OPPO will not be responsible or liable for damage or loss of programs, data, SIM cards or interchangeable storage media.
3. To the extent permitted by local law, OPPO is not liable for any loss if this is not a reasonably foreseeable consequence of OPPO's violation of this Warranty. As a consumer, the use of the devices may be non-commercial. OPPO is therefore not liable for any loss of time, loss of income, loss of expected savings contracts or loss resulting from the use or inability to use the device.
4. In any event, OPPO and the liability of its supplier under this limited warranty are limited to the amount that the consumer has actually paid for the product or the current replacement value, depending on which of the two is higher.
5. Nothing in this Warranty shall limit or exclude any liability of OPPO for death or personal injury caused by negligence, fraud, fraudulent representation or any other liability that cannot be limited or excluded by law.
6. If you are experiencing problems, please contact the OPPO hotline in your country or services from your local OPPO website.
7. This Warranty is updated from time to time by OPPO. Please visit the local OPPO website for the latest version of the Warranty for the product.
8. You expressly agree that the use of the unlocking service provided by OPPO and related service provider is at your own risk. Except as otherwise provided by law, OPPO and related service provider does not make any form of ostensive or implied statement, promise or guarantee for the unlocking service. It is not guaranteed that the service will meet your requirements, nor is it guaranteed that the service will not be interrupted. OPPO and related service provider does not make any promises or guarantees on the timeliness, safety, and errors of the service.
REPAIR OF PRODUCTS PURCHASED OUTSIDE UNITED KINGDOM
Products that you bought outside of UK and that are not sold in the UK can still be repaired after inspection.
If you bought your product overseas, you can still request a repair from an OPPO Authorized Repair Center, except for a product subject to IWS (International Warranty Service) that purchased for which the repair is carried out as for a product purchased in the UK. Under these conditions, you can make a warranty claim in countries authorized by OPPO. You can find out which devices are covered by the IWS on the website: https://support.oppo.com/uk/

This symbol (with or without frame) on the device, the batteries (if included) and / or packaging indicates that the appliance, the electrical accessories (such as headphones, adapter or cable) and batteries should not be disposed of with normal household waste.